Solutions
We offer solutions of any complexity, is a full-scale, for your organization, and those that will necessarily contribute to the modernization of infrastructure and confident market positioning of your business: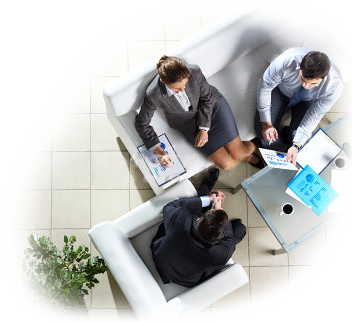 IT Outsourcing is a comprehensive service, support services and all services of computer equipment, office equipment (printers, faxes, copiers, fax machines, etc.), LAN and telephone networks, Internet businesses, as well as users. The possibility of introducing new products and teaching work with them, as well as new hardware tools.
Nowadays, successful business starts with quality information technologies, which become one of the main components of the mechanism. At the same time companies are faced with the problem of expensive offers labor market, creating your own IT staff of experts who are often only support the previously established system not looking to the future and not trying to modernize or improve it. Therefore you should always contact a specialist, having a very significant experience and striding along with the time a team of professionals - «Fiber Group». Here you will find solutions, convenience, confidence and stability.
We take on the responsibility for the creation, optimization and support of enterprise information systems, training staff competent and effective work with this tool, you professional consulting on information technology. And so you could focus on the process of achieving goals and not thinking about the tool.
IT Consulting is a project-oriented activities related to information support business processes, allowing to give an independent expert evaluation of the effectiveness of the use of information technology. Today, most companies use IT to manage their business. Information technologies allow you to do business more visible, more manageable, and more predictable.
In the area of IT consulting company offers a wide range of services that help maximize the return on existing IT infrastructure, and to create effective management processes and IT operations.
The company's activities with IT consulting include the following services:
Information systems audit, information security;
Aligning IT strategy with existing goals and objectives of the company;
Consulting on strategy development, information security;
Consulting on building infrastructure and software licensing;
Concept development, design and implementation of management and control of IT in the enterprise;
Making recommendations aimed at the development of IT infrastructure in contemporary trends;
Increasing the efficiency of the company's employees through optimization of equipment;
Long term development of conceptual IT positions.
IT Outstaffing
Very often needs of many companies are in hiring qualified IT professionals without legal registration. This situation is typical in various offices of foreign companies, companies where employees need to carry out short-term IT-projects or who are not able to increase the number of staff employees, but they need to complete their tasks. Also IT outstaffing good fit for organizations that want to insure your IT infrastructure on vacation, business trips or temporary absence for health IT professionals (IT department). Using this kind of service, you essentially cut the tax base, and get qualified service for IT infrastructure. Being one of the leading operators of these services, our company offers you to independently vary the terms of the contract, determining everything: time, full / part-time, days of the week, specialist level, etc.
We will create the best conditions for you to replace the lack of time off, sick leave, thereby ensuring constant operation of your business.
Providing full informational security. Controlling access to information, protection against intrusion, viruses, attacks, unauthorized access;
Providing licensed software, configure it, updating, testing, training, services for the legalization and licensing of software;
Full-service of servers. Computers, PBX and network equipment, office telephony and telephony between branches. This category includes configuring, constant updating of services and services, modernization and expansion capabilities of hardware and software component;
We offer installation of all types of networks, development of technical specifications, network design, configuration local area network, network testing, as well as its support.
Contact us, we will always find in Your organization those elements that can be improved to increase their efficiency and eliminate those that do not bring benefit to You. Go with the times with us and be a leading element in the industry.
Our contacts:
(044) 332-85-86;
e-mail: sales@fibergroup.com.ua