Security Systems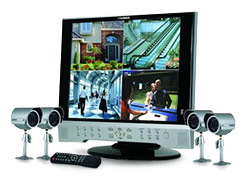 Today, most sectors of human life can't be imagined without the security and control systems.
Such systems have become an integral part of the daily work of large organizations, government agencies, and commercial property.
Through the installation of security systems You get the option of immediately alert the current situations, which are not standard with maximum record of it. In particular, it provides by the actuation of sound and light signals, messages are sent to remote centralized protection service, automatic start of fire or smoke services, as well as blocking the protected sector, the possibility of SMS alert service and etc..
«Fiber Group» offers a full range of services for the construction of security systems, namely:
Check out the object for an accurate analysis, evaluation and professional advice;
Certified design or a complex security system using quality equipment and materials;
Conduct orientation works, hardware setup with a demonstration of its efficiency;
Testing of all services and staff training.
We have all the necessary building, fire and security license for work.
Complex of security system includes such important constituent elements:
Various kinds of sensors and surveillance equipment to monitor and record irregular situations;
Control devices that accept recorded sensor data, analyze the data and generate a corresponding set of commands for actuators;
Active and passive actuators that perform command control devices;
Channels of communication with the centralized control guard.
Company «Fiber Group» offers a solution of problems in the field of safety and control systems. We can develop complex projects to ensure the safety of the facility, or offer individual technical solutions: a fire or burglar alarm, video surveillance system or access control, time tracking.
After installation «Fiber Group» produces complete testing of all services and if necessary - full maintenance.
To get answers, please contact the sales and consulting «Fiber Group» by phone (044) 332-85-86, or write us sales@fibergroup.com.ua