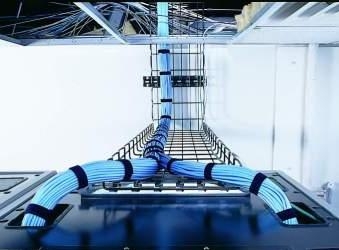 Optimization of your workflow.
Save money costs and time.
Increasing the productivity of the team.
It looks like the perfect strategy for the successful growth of any business and increase revenue.
You can reach it only if the heart of Your business - office works constantly. To achieve this, you must connect all office equipment, computers and telephony facilities, fire and security systems into one functional structure.
Reliable team of Fiber Group will help You to do it , because our target direction is design, construction and modernization of local computing systems.
| | |
| --- | --- |
| Type of work | Cost |
| Advancing copper cable "twisted pair", 1m (5e, 6) | 3 UAH |
| Install outlet Rj-45-12 (Polo, Legrand, Viko) | 50 UAH |
| Advancing the optical cable (underground), 1m | 5 UAH |
| Construction of an air link (optical), 1m | 10 UAH |
| Continuity built cable line | free |
| Throughput testing and commissioning of the cable network | free |
Warranty on the construction of cable systems and its core switching nodes, as well as a wide range of options for its service!
So, what exactly do we offer You?
Construction of the campus network, including a mix of several LAN in a single functional network
Installation of local LAN on a scale of one building,
Building a wireless, multi-service networks, which ensure stable operation mechanisms of quality of service (QoS);
Laying telephone, as well as geographically distributed corporate lines within the urban infrastructure (MAN). It uses the principle of fiber-optic communication lines.
But it is not the limit of our possibilities.
Structured cabling system (SCS) is a unique technology that will help to raise the efficiency of your company on a very high level.
SCS as an effective telecommunications infrastructure office, building or campus provides transmission of voice, data and video signals.
What competitive advantage it gives You?
Quality and thoughtful installation of networks SCS gives the following results:
number of failures in the IT infrastructure is reduced by 90%
overprotection data from unauthorized access;
fastest access to any information of the network (locally or remotely);
reliable backup and data storage;
rapid exchange of information between remote LAN networks on a large scale data transfer rate - 100 kbit / s for voice applications up to 10 Gb / s data applications;
sharing of network resources (printers, switches, fax, and so on.)
use of high-precision advanced technologies such as:
- Organized system of electronic document
- Integrated network database
- Receiving / sending faxes,
- Internal and remote high-speed access to the World Wide Web. - Direct dial telephone and virtual networks, etc.
Today leading structured cabling systems are equal to basic communications, as natural gas and light. That's why, it's presence can increase the price of the rental of offices and affect on the resulting value of the building at the estate.
Are there any downsides?
Yes, just one. Construction SCS involves one time expenses.
This is explained by the high cost of consumables.
Judge for yourself, more than 70% of the cost for construction SKS out to purchase high quality cables, fasteners, special cabinets, cable trays, telecom outlets, etc.
The remaining 30% of pay:
Development of optimal technical project that will save You money, work of engineers.
SCS installation and subsequent testing of the system is extremely time-consuming and complicated process. Therefore, this work is better to entrust professionals.
However, every cent fully pays for itself due to the high profitability of the system.
With this You are forever safe from the financial costs of permanent repairs in the office. Moreover, for 25 years You do not have to spend money to build a computer network for current needs.
* Can I save? You can, if purchase low quality materials.But it is unlikely option for You. As well as for us.
Why more than 200 customers ordered SCS installation company «Fiber Group» and were satisfied with the result?
Design and construction of SCS is based on a large amount of rapidly emerging standards. This considers the possibility of further integration of additional systems. For example, security and fire alarm systems or CCTV systems. You save huge sums in the future.
In the process of creating the network infrastructure we use optimal active network equipment, which in turn provides the reliability and the ability of timely upgrades.
In addition to the project "turnkey", we provide the delivery of equipment, testing of the system and its further maintenance. Warranty certificate for testing lines.
All operations are carried out by team of engineers, installers with experience of 10. We offer a 5 year warranty on the power supply system.
Certificate for testing lines for 15 years.
At the very SCS - 5 years.